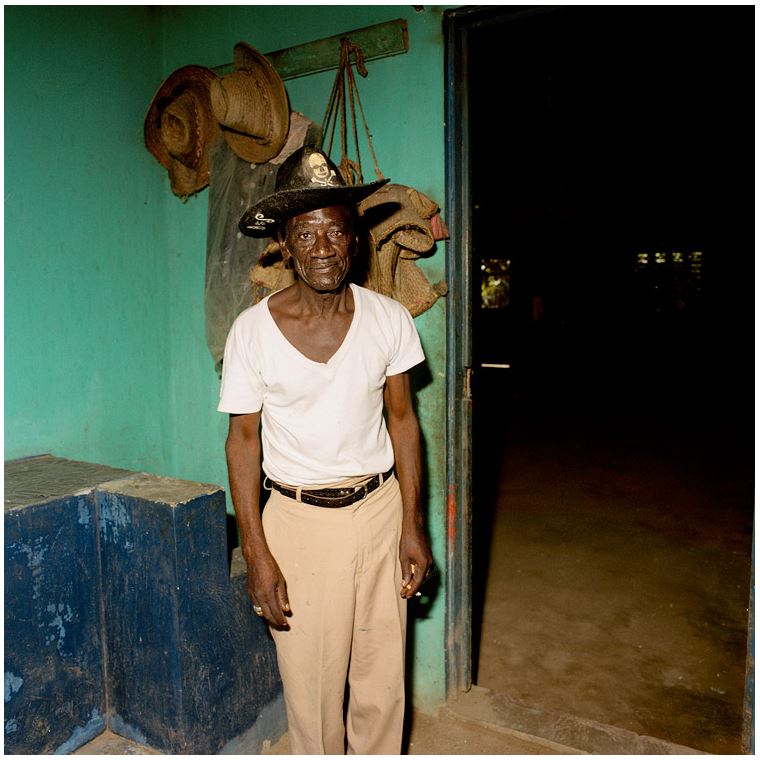 Andre Pierre as Baron Samedi, 1987. Photo by Stuart Rome
Andre Pierre was born in Port-au-Prince, Haiti around 1915 and moved at an early age to Croix-des-Missions on the outskirts of the capital where he made his living as a farmer. He had practiced Voudou since childhood and in the late 1940's met the American filmmaker Maya Deren who had come to Haiti to make a film on dance but became a initiate in the houmfour where he was La Place, second in command. The houmfour was decorated with gourds on which he had painted images of vodou spirits and it was Ms. Deren who suggested to him that he should paint on canvas and offer his paintings to the Centre d'Art, which he did. Shortly afterwards he began a twenty year relationship with the dealer Issa el Saieh and went early each morning to the capital to paint in the atelier that Issa provided. Eventually he became so renowned, not only for his art but for his personality, that he stopped going to Issa's and painted in the compound where he lived and where he had built his own houmfour; he was by then a Houngan.
Andre Pierre was the dominant artist of the second generation, spiritual heir to the legendary Hector Hyppolite. Collectors and journalists from all over the world came to visit him in the modest hut where he painted lovingly detailed portraits of the gods of the vodou pantheon by the light of an oil lamp. In the mid-1970's the place had a thatched roof and chickens strutted in and out the door. Often his visitors brought a bottle of rum which he would open and pour three drops on the dirt floor of the hut to honor the Trinity, " Pou lepere, e lefis, e lesentespri" he intoned in his ancient voice. He would take a sip, pass the bottle and sit at his easel, chanting songs and instructing his guests about the postive aspects of the religion. His mission in life was to present Vodou as respectable, on a par with all the other major religions. His pronouncements, on Vodou and on life in general were wise and sophisticated and were often punctuated with his trademark subterranean chuckle. As the political situation in Haiti worsened in the mid 1990's and the road to Croix-des-Missions became less safe to travel, he became somewhat isolated. In the last few years of his life he was diagnosed with diabetes which affected his eyesight and his ability to paint. By 2004 he was almost totally blind and had stopped painting altogether. Andre Pierre passed away on October 4, 2005.