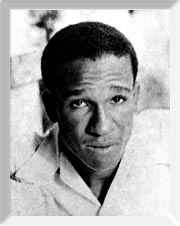 Portrait of Wilson Bigaud
WILSON BIGAUD b. Port-au-Prince, 1931 1
Wilson Bigaud first had the notion to become an artist from watching his neighbor, Hector Hyppolite, paint. He did a few sculptures out of clay, which he took to the Centre d'Art. DeWitt Peters suggested that he should try painting instead, which turned out to be Bigaud's real medium. He joined the Centre d'Art in 1946.
Bigaud's art gave new meaning and purpose to his life. It gave him both the possibility of overcoming poverty and desperation and the opportunity to release inner tensions and express his own thoughts about the social fabric of Haitian life. However, he suffered a series of nervous breakdowns between 1957 and 1961. According to Rigaud Benoit, who knew him very well, a shooting in Bigaud's neighborhood caused his illness. The years of his creativity and collapse were years of political upheaval in Haiti. Con­sidering the artist's themes in retrospect, it is as if he antici­pated the events that eventually overwhelmed his sensibil­ity. He is said to live now in Petit-Goave under the close surveillance of his family.
Bigaud's masterpiece is the mural Marriage at Cana, exe­cuted between 1950 and 1951 for Holy Trinity Cathedral. The wedding scene can be understood as a pretext for showing Haitian life as the artist sees it. Most of his themes are included. The murder in the jungle, the cemetery, the unnerving rhythm of the drums and the primeval sounds of rara, the poverty, and the mystery of voodoo are all bathed in a strange yellow light typical of Bigaud's work. In his paintings, the world is transformed into a demonic place, full of violent feelings, held together by the power of authority.
Characteristic of Bigaud's style is an emphasis on perspective and volume and an awareness of the effects of light and shadow. His color range was broad, although he rarely used pure, bright colors. Bigaud has continued to paint, but his work is no longer of high quality. The colors are now chalky and muddy. The themes have become more peaceful and subdued, awakening hopes for a recovery and a return to previous greatness.
Cats. 24 —27, 130, 131
1 - Stebich, Ute. Haitian art. New York: Brooklyn Museum Exclusively distributed by H.N. Abrams, 1978. Print.
Further Reading - Wilson Bigaud: Life on the Edge, by Haitian Art Society Founder Larry Kent