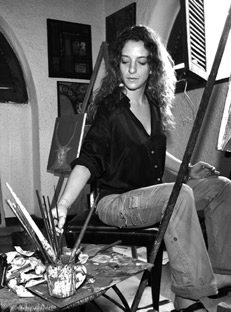 © JC Coutausse
Pascale was born in Canape Vert hospital, in Port-au-Prince on March 26, 1974. In 1977 she moved with her mother to Switzerland, but returned to Haiti frequently for extended stays over summers and school holidays. She received an intensive art education in Geneva, studying painting, printmaking and sculpture. As an adolescent she designed and built theater sets, made carnival masks and studied fine art restoration. She is a voracious consumer of art-related knowledge, devouring books, attending exhibits and experimenting with every known form and material of art.
In 1994 she returned to live in Haiti. She was one of five Haitians invited to exhibit in the V Biennal in Cuenca, Ecuador in 1995. The next year she had a one-woman show in Los Angeles and has since participated in solo and group shows all over the world. She professes to have a fear of stagnation so works in many different media. She is attracted by the mystery and symbolism of all the world's religions although she does not practice any of them.
Pascale has been surrounded by art and artists for her entire life; She was influenced by the paintings of the artist/houngan Andre Pierre, on her many childhood visits to his studio and by many of the artists of the Galerie Monnin, especially Manes Descollines, Yves Michaud, St. Louis Blaise, Louisianne St. Fleurant, Stivenson Magloire, Frantz Zephirin and the sculptor Nasson. She is a prominent member of the newest school of Haitian artists, a group of sophisticated young moderns who are hip and well-traveled, and are energized by the ethos of Haiti but present it in a contempory manner. Among her peers are Mario Benjamin, Sergine Andre, Pasko, Killy and others. Not to mention the godfather Duval-Carrie.
Pascale is a rare breed who is as comfortable in the neighborhoods of Cite Soleil and Carrefour as she is in the salons of Petionville and La Boule. She drives around Haiti in her well-aged pickup truck; more often than not with a few market women and other hitchikers in the back bed.