Sacred Diagrams: Haitian Vodou Flags from the Gessen Collection examines the tradition and artistry of Haitian Vodou flags. Often made of discarded burlap bags, repurposed fabric, beads, and sequins, Vodou flags represent Haiti's spiritually rich yet often misunderstood Vodou religion. Guest curator and artist Edouard Duval-Carrié (Haitian, b. 1954) examines the role of Vodou flags and flagmakers within Haiti's dynamic visual culture.
Sacred Diagrams highlights vintage ceremonial flags from the 1950s and 1960s, as well as explores recent interpretations of Vodou flags by artists Clotaire Bazile, Myrlande Constant, Mireille Delice Delisme, Silva Joseph, Dubreus Lherisson, Edgar Jean Louis, Antoine Oleyant, Yves Telemaque, and George Valris. This exhibition is part the exhibition series Ordinary/Extraordinary: Assemblage in Three Acts. The series simultaneously presents three discrete shows focused on works by Jean-Michel Basquiat, Purvis Young, and a selection of 20th- and 21st-century Haitian Vodou flags. The use of found objects, such as discarded wood and textiles, formally links the exhibitions together. More importantly, historical and socio-economic narratives informed by the Afro-Caribbean Diaspora, the Black experience in America, as well as European artistic influences, unite the artists featured in the series. Although each is a stand-alone show, viewed together, the series explores provocative portrayals of race, identity, spirituality, survival, and hope in a range of assemblage objects and compositions.
Sacred Diagrams: Haitian Vodou Flags from the Gessen Collection is presented by: Kay and Roderick Heller, The Harpeth, Franklin, TN Additional support for the Ordinary/Extraordinary exhibition season is provided by: Deborah Brittain | Muriel Braithwaite Dr. Willie Logan and Lyra Blizzard Logan | Bales Security

Download the full color Sacred Diagrams Catalog PDF here.
Video with Edouard Duval-Carrie, Joanna Robotham and Ed Gessen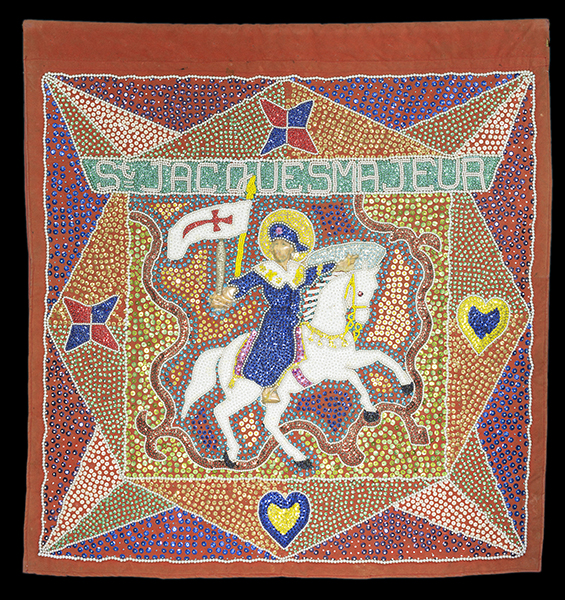 *St. Jacques Majeur, c. 1950-1970's
Artist unknown, Sequins and beads on cloth. 33 x 31 inches. Collection of Ed and Ann Gessen. Photographer: Philip LaDeau*
Virtual Zoom conversation between Edouard Duval-Carrié and Tampa Museum of Art Curator, Joanna Robotham as well as art collector Ed Gessen where they talk about this impressive collection of Haitian Vodou flags.