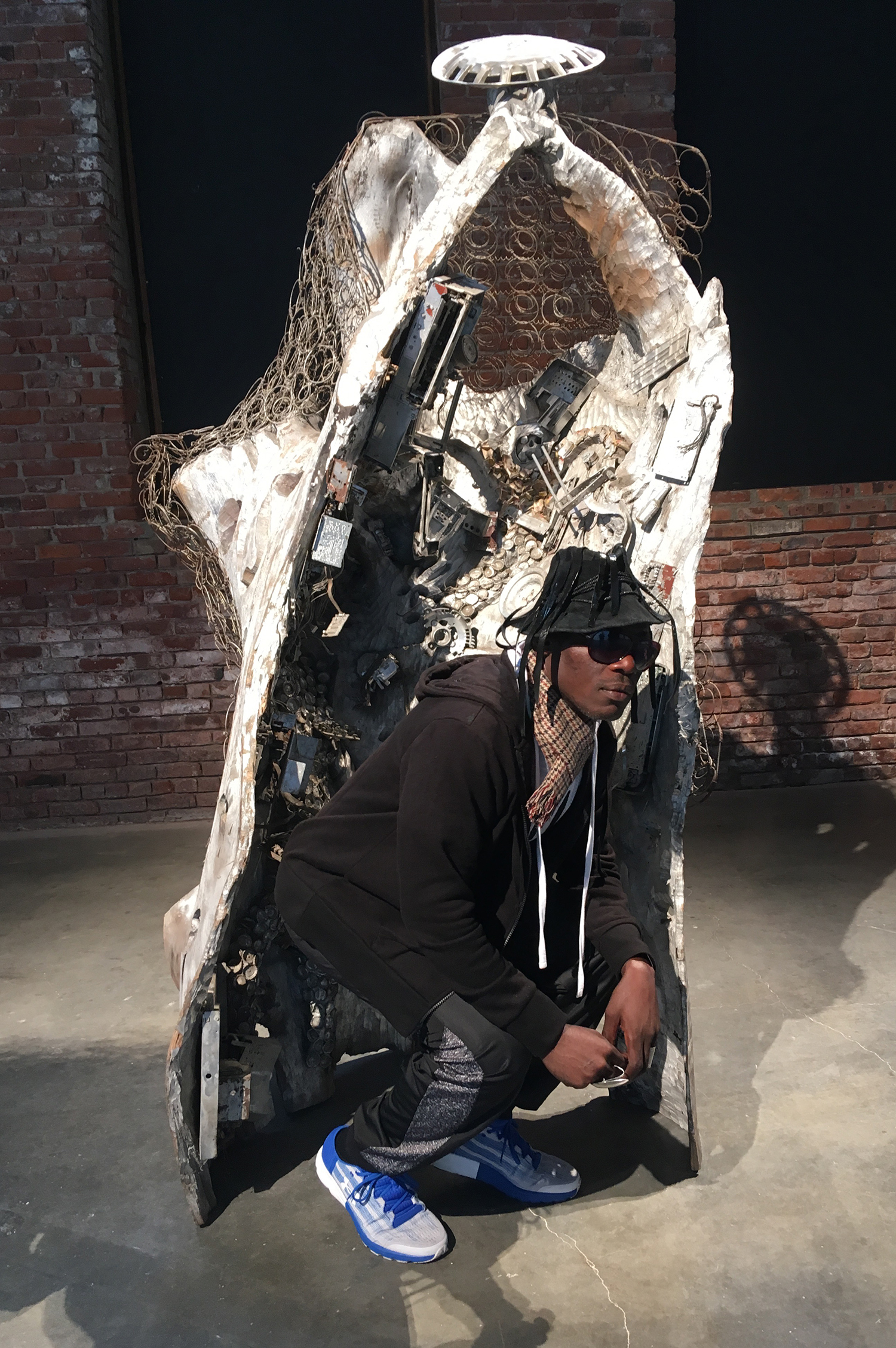 Guyodo was born Frantz Jacques on December 7, 1973 in a small house off the Gran Rue, the main commercial street of Port-au-Prince, Haiti. The rest of his family has moved but he still lives and works in the same rooms where he was born and raised with his grandmother, his parents, 6 sisters and 4 brothers. He attended Lecole Primaire, Secondaire and Troisieme and also worked after school sanding and staining wooden tourist items as did many of the kids in the neighborhood. He began playing soccer very young and became good enough to play professionally which he did until age 25 when he finally gave it up to please his mother, who had never approved of his soccer career; She wanted him to be a mechanic, which in fact he turned out to be, as it takes a high degree of manual dexterity and skill with hand tools to assemble the effigies that he imagines.
Guyodo exhibited his work for the first time at the Sent Kiltirel Afrika Amerika in Port-au-Prince in 1989. He was a founding member of Atis Rezistans, a group of artists, former woodworkers and carvers, who began to collect the junk that clutters their industrial neighborhood and incorporate it into works of art, some of them monumental, using car and truck frames, which make social and political statements and frequently pay homage to the gods of Vodou. The sculptures are everywhere; groups of them line the narrow alleys and hang on the walls, spreading from the bulging ateliers of the artists to populate the block, a living museum in the ghetto, for people who do not normally frequent museums.
In 2006, curators from the International Slavery Museum in Liverpool came to Haiti, looking for an artist to create a large piece to commemorate the 200th Anniversary of the Abolition of Slavery. Guyodo was one of four artists who were chosen to collaborate. They built the Freedom Sculpture in Haiti and shipped it to the UK where it was shown in several cities before being permanently installed in Liverpool. Since then, the artists have travelled, together and separately, to Paris, London, Chicago, Bordeaux, Pittsburgh, Geneva, Edinburgh and other places.
In September 2018 Guyodo was one of the featured artists in POTOPRENS: The Urban Artists of Port-au-Prince, a group exhibit of 25 artists at the Pioneer Works in Brooklyn, NY. The exhibit continued to the Museum of Contemporary Art North Miami in 2019.
Exhibitions
Solo Shows
2009 Galerie Bourbon-Lally, Bourdon, Haiti 2005 Centre Culturel AFRICAMERICA, Port-au-Prince