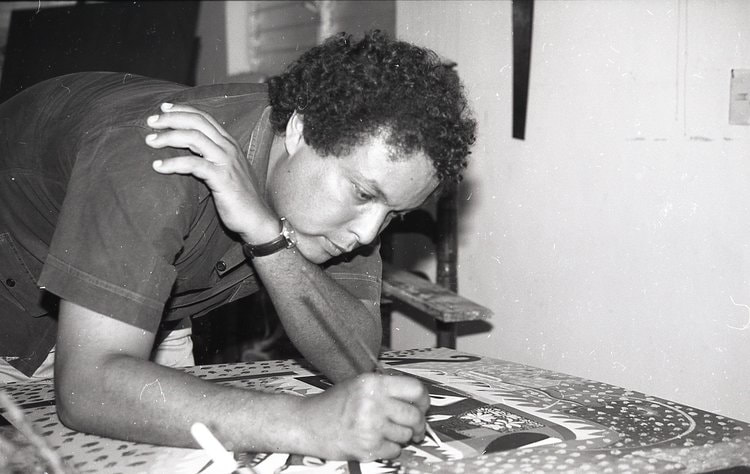 © Copyright 2019 Paul Gardère Studio. All rights reserved.
Paul Claude Gardère was born in Port-au-Prince, Haiti in 1944 and immigrated to Queens, NY in 1959 at age fourteen. While attending the Lycée Français de New York, he enrolled at The Art Students League, where one of his first art teachers was Charles Alston. Encouraged by his mother to pursue his artistic ambitions, Paul earned a Bachelor of Fine Arts from The Cooper Union for the Advancement of Science and Art in 1967, where he studied under and formed close ties with social-realist artist Robert Gwathmey, figurative painter Nicholas Marsicano, and sculptor Reuben Kadish. He completed his formal education with a Master's of Arts from Hunter College in 1972, under the tutelage of teachers Mark Rothko, Robert Morris, and John McCracken.

In 1978, Paul returned to Haiti with his wife and young son to reconnect with his roots and explore the rich artistic traditions of Haiti. He was quickly embraced by Le Centre d"Art in Port-au-Prince, Haiti's premier artistic institution nurturing generations of Haitian artists from Hector Hyppolite and Georges Liautaud to rising contemporaries such as Antonio Joseph and Edouard Duval-Carrié, with whom he exhibited locally. After 7 years in Haiti, the family, which now included a young daughter, returned to Brooklyn, NY in 1985, fleeing the hostile climate of the Duvalier regime.

Gardère would go on to complete residencies at The Studio Museum in Harlem ('89-'90), the Jamaica Arts Center, Long Island University, and Fondation Claude Monet in Giverny, France - an esteemed opportunity that was particularly influential for his work.

​He received a fellowship from the New York Foundation for The Arts and received the Joan Mitchell Foundation Award for Painting in 1998. Gardère had solo shows at Le Centre d'Art and Le Musee d'Art Haitien, the Figge Art Museum, the Jersey City Museum, Lehigh University, and Skoto Gallery among others and exhibited extensively in group shows in the US and Haiti. Works of his proudly reside in the permanent collections of the Smithsonian National Museum of African American History and Culture, The Studio Museum in Harlem, The New Orleans Museum of Art, Museum of Modern Art Library, The Brooklyn Museum Library, Le Centre d'Art, Figge Art Museum, and the Schomburg Center for Research in Black Culture in NY, to name a few.

In the year 2000, Paul and his wife, Marcia, relocated to the South Shore area of Massachusetts, pursuing a professional opportunity for Marcia, a widely-beloved early childhood educator and administrator. Paul spoke of a special quality of light at the Massachusetts coast and the environment visibly influenced his work during their years there. In 2006, the couple returned to life in their Brooklyn home.

In September of 2011, Paul fell ill and unexpectedly passed away in New York City, just five weeks following the death of Marcia, his partner of 42 years. He was survived by his two children, Nicolas François Gardère (1973-2016) and Catherine Anne Gardère (b. 1981). Catherine currently acts as director of Paul Gardère Studio to shepherd her father's artistic legacy.


Though Paul spent the majority of his life in the United States and was naturalized as a US citizen in 1991, Haitian culture and imagery remained the lens through which he explored the broader concepts of post-colonial Caribbean history, cultural hybridization, economic class disparities, and pluralistic identity, in and beyond the Haitian diaspora in America. He believed in the necessity of the diversification of the art historical canon, and sought to increase the visibility of the African and Afro-Caribbean diaspora's contributions to Western contemporary art.
via https://www.paulgardere.com/about.html