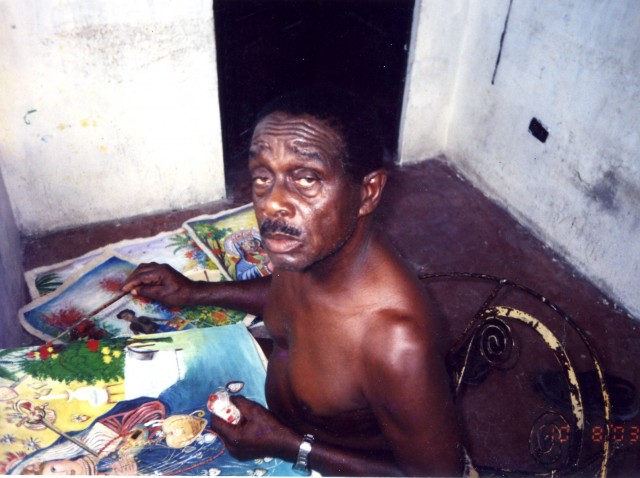 Lafortune Felix in his studio
Memory of Lafortune Félix by Gerard Alexis
In 1972 began the public career of Lafortune Félix, anonymous artist who decorated the walls of his temple in the Saint-Marc region. It was Pierre Monosiet, then director and curator at the Musée d'art haïtien du Collège Saint-Pierre, who discovered it. Pierre was rarely wrong. Lafortune Félix's success is once again proof of this. What made this character interesting? For me who met him at the very beginning of his career, what struck me at first sight was his modesty. He was surprised to know that what he had done was beautiful. He didn't know he was an artist. What he painted on the walls of his temple was for him a way of participating in the cult of the lwa he served. It was not at all a question of making a purely decorative work associated with the sole aesthetic enjoyment of its author or of an audience.
I would not like to do Selden Rodman and go back to the Italian Trecento but, in truth, Laforture Félix looked like Giotto during the latter's realization of the frescoes of the Basilica of St Francis in Assisi. Indeed, like Giotto, Lafortune Félix painted his murals without any pretension, without knowing that he was going to become a renowned artist and thus take over from Hector Hyppolite, the greatest initiator of a new voodoo iconography. However, Lafortune Félix should not be considered an avatar of Hyppolite. He differs from the master in many ways. It must be said that Lafortune was a houngan while Hyppolite was not one, in any case according to the words of his friend and son-in-law Rigaud Benoît. This would perhaps explain the fact that the production of Lafortune Félix is ​​exclusively devoted to his religion, while Hyppolite also produced a whole set of images representing landscapes and genre scenes often centered on women. That said, he was much more daring in color than the elder he most likely did not know.
Lafortune Félix was born in 1933 at Pont Sondé, Hyppolite died in 1948 in Port-au-Prince. On the other hand, like Hyppolite, Lafortune Félix had an innate sense of composition. If we ignore the subject of some of his works, Lafortune Félix, although self-taught, approached the composition in a scholarly manner. He was surely guided by a desire to make his image intelligible, which is precisely the purpose of the composition. The first choice he made was that of a square support. All the elements that make up his images: lines and shapes have been organized according to the edges of the support. This organization is made according to the circle or the triangle, two geometric figures which, by their symmetry, make it possible to highlight the main character: the divinity, rendered by a human figure. The divinity being source of balance by its situation on the central axis, the artist will distribute the forms and the values ​​on both sides of this axis so as to translate an image through the divine order. You could say that Lafortune Félix was an arbitrary colorist. Didn't someone say that only the ignorant eye assigns a specific and unchangeable color to each object. Lafortune Félix thought so. Also, he only used color for his expressive force. In his work, landscape and nature are always incidental and he gives them the colors he considers covenable. Far from wanting to objectify the subjective, he wanted to subjectify the objective. Its subject is not sought in the outside world but rather in an inner world. Thus, feelings and ideas have always been the starting point of his art. The iconography of Lafortune Félix is ​​therefore necessarily very personal. Failure to take into account the artist's approach to the work in its form makes it difficult, if not impossible, to understand. This was confessed by Jean Marie Drot, writer and filmmaker who accompanied André Malraux in Haiti and who was passionate about Haitian painting. "I admit," he said, to be unable to decipher the works of Lafortune Félix from which I can only derive a purely aesthetic, but immense pleasure ". Lafortune Félix is ​​dead, Haiti has lost one of its great painters. (Gerald Alexis).